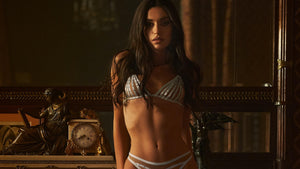 OUR PURPOSE
Lit Appeal is about us.. the ones that wake up everyday with a strong desire to live every moment of our lives with love and courage. The ones they always like to talk about, but can never ignore. The ones they like to point fingers at, but secretly fantasize about. The ones that cry passionately, but never give up. The ones that love freely and live unapolagetically, as we know that true confidence and self-esteem can only come from our own heart. We are the ones who know that a strong woman is one who feels deeply, lives freely and loves fiercely. And we know that you are one of us!
We hope that you can find small pieces of love, courage and beauty that you can wear in our store, as without you, Lit Appeal would have no reason to exist. So go on, you beautiful little troublemaker.. go and make us proud!
OUR PRODUCTS
Inspired by our desire for freedom, we designed each and every set by combining high quality fabrics, such as french Solstice lace and satin silk, while also manually adding the final touches, so that every little detail aligns with our high standards.
OUR COLLECTIONS
There are two sides to every story, even when it comes to lingerie. Therefore, we present our two collections: Wifey Material and Afterparty, each having its own personality and approach.
WIFEY MATERIAL COLLECTION
For tender, sensual and independent women, made of that wifey material everyone is dreaming of.
DISCOVER COLLECTION
AFTERPARTY COLLECTION
When the party is over and the real fun begins. All you troublemakers out there, this one is for you.
DISCOVER COLLECTION
BECOME OUR AMBASSADOR
We're on the lookout for influential women to bring our brand to the masses. If you're over 18, you can contact us using the form below.
GET IN TOUCH
If you want to contact us, leave your information below and we'll make sure to get back to you!