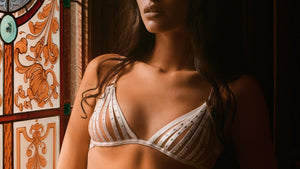 Each of our products has a dedicated size guide on its product page. You can find it next to the product's variant selector.
Once you have added items to your cart, proceed to the checkout where, after filling in your information, you will be able to choose from our secure online payment methods providers, such as Stripe or PayPal.
Yes, our website displays live product stock information on each product page. Whenever a product variant is under 4 items left in stock, the stock count will be displayed in real time.
Yes, at no extra cost. Please leave a note after adding your favorite items to your cart, and we'll make sure to make it special.
In this unfortunate case, please contact us at orders@litappeal.com regarding the issue and we will make sure to resolve it by issuing a return for your ordered items.
Even though, for a longer use of your items, professional laundry is recommended, in case you do not have this possibility, you can wash your items at home by hand or in the washing machine, following the care labels attached to the product.
Yes! Through the help of our fulfillment partners and couriers, we can cover most of the existing countries in the world for our shipping purposes. For a full list and more information, please visit our Shipping & Returns page.
Yes! If you decide to return the items you have ordered, you will have the option to do so within 14 days of your order. If you want to acknowledge all the information regarding the conditions of a return, please visit our dedicated Shipping & Returns page.
Orders can be both updated or canceled if they have not been fulfilled. In both scenarios, you will have to contact us and ask us to update your order as soon as possible. If, however, your order has already been shipped, it is not possible to cancel or update it. You can always return it within 14 days for a refund or add the pieces you forgot by placing another order.
As soon as your order is dispatched, you will be receiving a confirmation email in which we mention the carrier we use to deliver your package. The exact delivery date is subject to the carrier and you address. For any delayed delivery situations, please contact us by sending an e-mail to orders@litappeal.com and we will provide you with both a tracking number and a delivery update.
Sure! However, there might be an unfortunate event where in the meantime your size product variant gets sold out. In this case, we will refund the full the amount for the returned item if it meets our return conditions. Also, we recommend that you subscribe to our newsletter so that you will be notified when your size comes back in stock.
Unfortunately, to ensure a hygiene friendly experience to all our customers, we can no longer accept the item return if the bikini sticker has been removed. Please visit our dedicated Shipping & Return page for more information.
HAVE OTHER QUESTIONS?
If you want to contact us, leave your information below and we'll make sure to get back to you!